Guildleves are small, rectangular plates made of stained crystal set into a frame of precious metal, each depicting a virtuous deed of one of Eorzea's patron saints, also known as "guardians." When issuing tasks or quests, guilds will often provide adventurers with these plates, allowing their bearers "leave" to take whatever steps necessary to complete the jobs, including entry into normally restricted areas, hunting or harvesting on private lands, the confiscation of goods, even negotiations with those considered enemies of the city-states. Guildleves also grant use of aetheryte portals, ensuring quick travel about the region.
Upon assessing an adventurer's skills, a guildmaster will provide a selection of several different leves, taken from the guild's stock. After weighing risks against rewards, fame against fortune, adventures may then select the leves that they feel best suit their needs.
Of course, there are no regulations stating that tasks must be completed alone. Adventures are free to call on their companions to join them, as only one leve is required to take advantage of the benefits and privileges provided to its bearer. By coordinating the leves of multiple party members, adventurers can even plan grand campaigns built around several different quests.
Whether you have an hour or a whole day, are alone with friends, seeking battle or bounty, guildleves give you the ability to forge your own adventures. The possibilities are endless!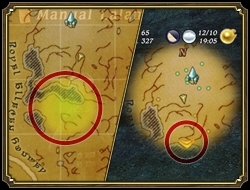 Location of leve targets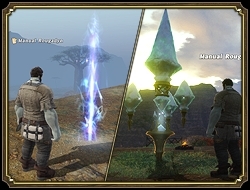 Aetherial gate and crystal
Battlecraft leves are, just as they sound, for battle! Designed for Disciples of War and Disciples of Magic. Signing up for these will require you to seek out and destroy certain monsters. Once you've found and eliminated the monsters, the leve will be complete. From start to finish:
Speak to the appropriate NPC to obtain guildleves.
Select the guildleves for the camp appropriate to your level.
Walk or Teleport to the appropriate camp.
Interact with the Aetheryte, select "Initiate Levequest", and choose the leve you wish to do.
Look over the details and confirm the Levequest.
Select your guildleve difficulty from 1 to 5 stars.
You will have the option to receive a boon through the Guardian's Aspect effect.
Follow the arrows on your mini-map to find your guildleve targets
Kill or Harvest whatever your guildleve calls for. A tally will be kept as you progress and a warning will pop up when you have only 15 minutes remaining.
Once the guildleve requirements are finished, an aetherial gate will appear and you can get a free teleport back to the camp where you will get your reward and bonuses depending on how well you did.
During the signup process of the guildleve, players will have the option to invoke a favor from their deity. Doing so will cause the player to earn a bonus to their acquired skill points during battle. This comes at a cost, however. Each invocation will cost 10 "favor". A player can hold a max of 200 favor, with 10 points regenerating each 10 real life hours.
Fieldcraft leves are used by the Disciples of the Land. The flow of a fieldcraft leve goes very much like a battlecraft leve. Only, instead of monsters, you will be seeking out such things as harvesting, logging, mining and fishing nodes.
Eorzea plays host to numerous civilian organizations, both great and small, which represent the many and varied interests of her people. Three of the largest and most influential of these take a keen interest in adventurer activity. They are:
The Brotherhood of the Broken Blade - A group of vigilantes who are convinced the beast tribes will one day destroy the realm, unless they destroy them first.
Azeyma's Shields - Self proclaimed protectors of the weak and enemies of evil.
The Horn and Hand - A band of scholars and scientists, merchants and moneylenders who seek to gain fame (and fortune) by aiding in the outfitting of adventurers.
To extend their influence throughout Eorzea, each of these "factions" sponsors levequests which coincide with their particular area of interest. Completing a levequest sponsored by a certain faction not only earns you "credits", but also increases the influence that faction has in the area where the levequest was completed.
The more influence a faction has over an area, the better the rewards offered for completing levequests sponsored by that faction. In turn, factions with less influence in an area often offer extra credits in order to lure adventurers to choose their sponsored tasks.
A faction's influence in any given area can be confirmed at the area's governing aetheryte camp or aetherial gate. Faction credits earned after completed levequests can be used to gain access to special missions offered only to loyal followers. The factions often reward those who complete these achievements with rare items or generous amounts of gil.
In order do a faction leve, there are certain requirements that must be fulfilled.
You need to have 100 faction credits with the specified faction offering the leve.
You must be the proper level. Level 20 leves require Class Rank 20 in order to start them.
Factions leves can either require you to hunt down items in town, or to hunt down certain monsters in the field.
Tutorial leves are simple quests designed to help get players started. They can either be Fieldcraft leves, or Battlecraft leves.
Players are limited to 8 Leveplates (open/finished Guildleves) per 36 Earth hours. Once you have started, completed and/or failed 8 leves, you will need to exchange the finished plates for the new ones. (when the perpetual 36 hour timer is up)
When your Guildleve NPC has more Leves to give you, you will be able to exchange the old ones. After selecting the Leve you wish to take, it will prompt you to select old ones to exchange. You can pick up to 4 Leves to turn in. Qualifying leves for exchange will have a * next to their name.
When they have a 0 next to the *, they will not provide bonus gil.
When they have a 1 listed next to the star, they will give you a 10% bonus to the base amount of gil reward and guildmarks for the new leve.
2 stars gives 20% bonus to the base amount of gil and guildmarks
The gil bonus is not cumulative. If your new Leve has a reward of 1,000 gil and you exchange 4 qualifying leves, your reward will be 1,400 gil.

Click this to craft using the leve materials

Appraisal goes up as quality goes up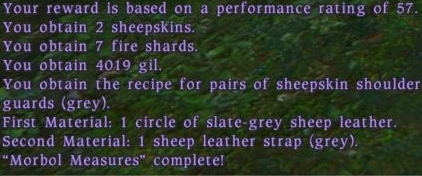 Rewards for completing the leve
Local Guildleves are designed specifically for Disciples of the Hand classes. Local leves require a player to craft items and turn them into a specified NPC. The leve provides you with all of the required materials, and will not take from your crystal supply to craft the items you need. All ingredients are completely provided to you.
While you are browsing for leves you wish to do, each one will list the details just as a regional leve would. This is how you will know the level of the leve, and to whom you give your completed items.
Each leve has only one item you'll be required to craft, and will need a given amount of those items. For example, you may be asked to craft two circles of sheep leather. However, you'll be given enough materials to craft four. Always use up all of the materials! Even if you make the two leathers in the first two attempts. You'll get an opportunity for extra synths, meaning extra skill points and experience points!
After you've picked up your leves, go to the required NPC. That NPC will give you the ingredients needed for the leve. If your leve takes you to an Aetheryte camp, you'll also have the option of getting synth support from one of the NPCs.
Select the "Synthesis" option from your menu.
Select "Requested Items" from your crafting menu.
Select the leve quest you'll be doing. This will put the ingredients in automatically.
Proceed through the crafting menus as normal at this point, and craft the item, using ALL of the materials provided to you.
Quality, Appraisal, and Rewards
You'll notice that after each synth, you're given a cumulative appraisal score. This is based on your crafted item's quality. The higher the quality, the higher the appraisal score.
When you've finished all of your synths, you'll end up with your total score. Speak to the leve NPC again to turn them in and collect your rewards.
1-99 appraisal will earn you the listed materials, shards, gil, and a new recipe.
100-199 will earn you the rewards listed above, plus 10 bonus items (repair materials or just general materials) relative to the level of the levequest.
200-299 will earn you 20 materials.
Increasing the difficulty increases the amount of EXP and Class Points earned by monsters. It also increases the gil and/or guildmark reward.
Players can share Guildleves with their group members. The group members will receive Gil, Completion Bonus Gil, and Difficulty Bonus Gil. However, the primary Gil and Item rewards are only given to the Guildleve Holder. This is known as Leve-Sharing. There is no limit to Leve-Sharing.
If two players in the same group currently have the same Guildleve, the system will activate both, giving both members full rewards for completion. This is known as Leve-Linking.
Currently, there is a limit of 8 total regional guildleves in 36 hours. You can also pick up 8 local guildleves during this time.
If you log out, are kicked from the game, crash, stray too far from the zone, or let the timer run out you will fail the leve. HOWEVER... if a party member crashes while in a group, logs back in and the Leve is still active, he/she can go back to the crystal to reactivate it. You must rejoin the group in order to do this, and travel back to the Aetheryte to reactivate. The person who holds the guildleve must be the leader of the party.
If you fail a guildleve, you will be able to re-do it, keeping the same rewards after the 36 hour timer has reset. Be sure not to exchange the failed leve if you wish to re-do it!
Local leves are not exchangeable. Once you complete or fail them, they're taken out of your journal.
The following are examples of Guildleve plates:
Valor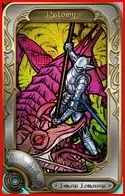 Portrays the scene of Saint Daniffen and the Basilisk. Muster the courage to stand against those who would threaten the weak.
Diligence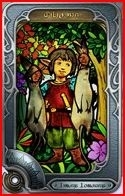 Portrays the scene of Saint Tothor the Ratcatcher. Earn the gratitude of your peers by humbly accepting tasks others shun, and working earnestly to complete them.
Constancy
Portrays the scene of Saint Moergynn and the Edgeless Blade. Focus your passion upon a single task, wielding your talents to aid those in need.
This page last modified 2011-01-18 16:35:39.