Revision as of 2012-09-08 16:03:57
Older version |
current version
(
diff
) | Newer version
Registering another player as a friend allows for greater interaction with other players. You will be notified when they level up, which provides you with a small experience bonus for every level they reach past 50 for one hour, see when they level up their craft skills, die in the middle of a battle or defeat a difficult boss monster.
Players registered on your friends list can also teach their skills to you or share monster information allowing for a mutual benefit.
The players who registered you as a friend will appear in your Friend List and you can talk to them by sending a whisper on the Friend List Window.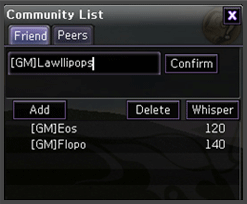 To open your Friends list you will need to click the [Community] button on the right side of the screen. This opens the [Community List] window to show your Friends, Peers of a similar level to yourself, and if applicable, Guild and Nation member lists.
---
Register Friends
---
When you click the [Add] button in the Friend List Window, a new box asking a character's name will appear. Input a character's name you want to be a friends with and click confirm button in the box and then your request will be sent.

The new friend will be registered in your Friend List only when the player accepts your request.
---
Delete Friend
---
In order to delete a character from your Friend List, you need to open the Friend List Window and click the character you want to delete, and then click the Delete Friend button.

The character's name will be deleted once you click [Yes] or you can cancel by selecting [No].
---
Whisper
---
You can talk to your friends by sending a whisper to them. You can do this by using the "Whisper" button in Friend List, or you can input "/t Character's name" of your friend in the Chat Box. You can also send a Whisper to players not on your friends list, however certain features will not work; such as sharing skills or monster information.
There are some other functions in the Whisper Window.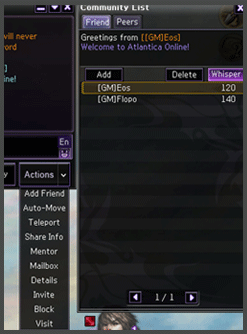 Change font color: You can change your font color 10 colors)

Invite to a conversation: You can invite another friend to a conversation in the middle of a whisper.

Invite to a party: You can invite a friend to a party in the Whisper Window.

Additional functions:
Add Friend: This function allows you to add a friend on your Friend List.
Auto Move: This function allows your character to move automatically to your friend's location.
Teleport: This function allows you to teleport your character to your friend's location.(Teleport License or Allied Teleport License required)
Share Info: This function allows you to share your monster information and crafting knowledge to your friend.
Mentor: This function allows you to register a character as your apprentice.(Only available for friends below Lv30)
Mailbox: This function opens your mailbox with name of the person your whispering in the 'Send to' tab.
Details: View formation and level details on the selected player.(Patrol License required)
Invite: Invite the player to a guild Must be in a guild and of at least Officer position to invite new members)
Block : This function allows you to block a character.
Visit: Visit other players My Home, if they have one.
This page last modified 2012-09-08 16:03:57.