BioWare unveils the final details of its free-to-play transition, including Cartel Coin prices and subscription benefits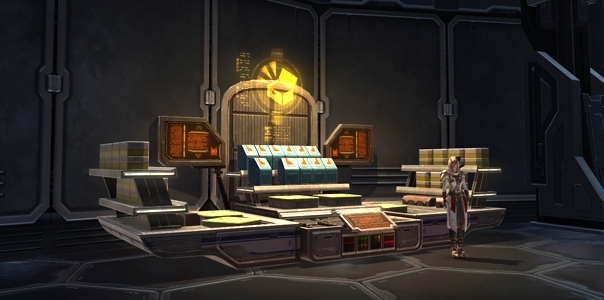 We've known for a while that Star Wars: The Old Republic (SWTOR) was looking to introduce a free-to-play option. We spoke with Jeff Hickman about it at Gamescom, and recently saw the planned changes on the Public test Server. The final piece of information that eluded us was when the changes would go live.
The answer is sooner than you think. The transition to free-to-play, together with Game Update 1.5, the HK-51 droid quest line, and the introduction of the Cartel Market, will happen on Thursday 15th November.
Instead of switching completely to free-to-play, BioWare is adopting a more flexible approach. At one end are newcomers, who can get into SWTOR and experience some of the best storytelling in any MMO, right through to level cap. While free players have several restrictions on their accounts, such as inventory size, character slots and PvP access, subscribers will continue to have full access to every aspect of the game. As an added bonus, anyone who subscribed before August 1st and has an active subscription when Update 1.5 goes live gets a free Party Jawa!
Free players looking to beef up their new accounts will be able to unlock further features on the Cartel Market. This new in-game shop offers character services such as increased inventory space, cosmetic items like pets and adaptive armor, and temporary convenience items such as XP boosts. Bundles of random items – known as Cartel Packs – offer the chance of obtaining exclusive rare and super-rare items, including new emote unlocks and exotic mounts.
The Cartel Market uses a new currency called Cartel Coins, which will be sold in packs on the SWTOR website and on cards at popular retailers. Bundles will start at $4.99 for 450 coins, stretching up to $39.99 for 5500 coins. Interestingly, almost all items and unlocks from the Cartel Market can be sold on the Galactic Trade Network, providing a way for players to exchange their real dollars for in-game credits.
Subscribers are also being rewarded for their continued loyalty, with players receiving a grant of Cartel Coins depending on their time subscribed. Ongoing subscribers will receive a minimum of 500 Cartel Coins each month in addition to unrestricted game access, with multi-month subscription bundles earning a higher bonus. Free players moving up to subscription will be able to buy the game for $14.99 and get a month of game time, along with all the bonuses it entails. Cartel Coins are still useful to subscribers, as they provide an alternative to spending precious credits for additional inventory space and Legacy perks. The Cartel Coin route also has an account-wide option for many services, providing new and existing characters with the purchased benefits.
In between full subscribers and free players are what BioWare describe as Preferred Status players. All former subscribers will automatically be placed in this category, keeping access to one cargo hold panel, unrestricted chat and the ability to trade with others. They'll also be able to continue using any gear their characters already have, but will need to buy an authorization for any new purple or artifact equipment they obtain. Free players can also move up to this bracket with their first purchase of 450 or more Cartel Coins.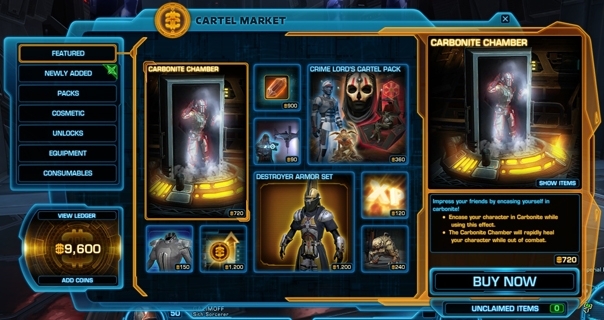 With the transition to free-to-play, it's easy to forget that Update 1.5 also opens up Section X on Belsavis, continuing the fight against the Dread Masters and starting the mission to gain HK-51 as a companion droid. This new level 50 content will be free to subscribers, while free players can buy access from the Cartel Market. With BioWare aiming to bring out further content patches every 6 to 8 weeks, we're told that Cartel Market unlocks for free players will be on a case-by-case basis. Other quality-of-life enhancements in this update include a vastly improved preview window that now handles weapons, color crystals, pets and mounts. The Explosive Conflict operation's new Nightmare mode also manages to sneak in.
Besides cool items like the carbonite chamber and holo-rancor projector, the Cartel Market team, headed by Cory Butler, is looking to regularly bring in new items. Their current plan is to produce themed cartel packs every month, with new rare and super-rare items. Butler also added that those plans can change, stating that the team will be listening to what players want, seeing what's selling on the market, and responding to players.
If you're interested in trying out the Cartel Market before update 1.5 hits live servers on Thursday 15th November, leap on to the Public Test Server and have a look at the item shop for yourself. Subscribers can also find out how many Cartel Coins they'll be getting on the account management pages. And don't forget to check out our sister site Torhead for all your SWTOR database needs!
Update: We just got word that any former subscribers that resubscribe before December 20th will recieve Cartel Coin rewards for their prior paid months! If you're considering coming back, reactivating your subscription could earn you a hefty haul of coinage.
Further Update: We asked what happens to former subscribers who have more than two characters. Here's what producer Blaine Christine had to say on the subject:
With Game Update 1.5, players who are returning subscribers that do NOT re-subscribe and play as Preferred will still have access to all of their old characters. However, it is important to note that this is NOT the intended behavior and with Game Update 1.6, we will be enforcing the 2 character limit on all Free-to-Play players (including Preferred). When GU 1.6 releases, players will need to select which two characters they want to remain active and will have the ability to purchase individual character slot unlocks to access other previously created characters.
Gareth "Gazimoff" Harmer, Staff Writer