Looking at the Lore Behind GW2's Human Hero.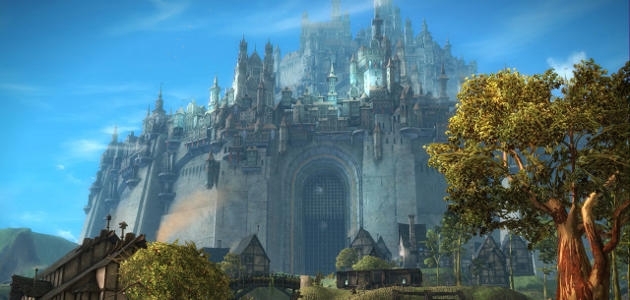 Logan had fallen for Queen Jennah – she's in Divinity's Reach – who is an incredibly popular regent among her subjects. Seen as a queen who truly works for the betterment of her subjects, she is also disarmingly beautiful -- as well as being an incredibly powerful mesmer.

Taken by the tales of Logan's victories, Jennah named Logan her champion and magically "bonded" herself with him. Whenever she was in danger and had need of him, Logan would feel compelled to fly to Queen Jennah's side.

That's all well and good until you are up against an Elder Dragon and your friends are depending on you. In the midst of battle, Logan was summoned by Jennah and ran to Ebonhawke in time to see his brother Dylan slaughtered – which is why Logan took his place in the guard and now brandishes his sword.

Although Logan rallied the troops and helped to lead the defense, it was actually the power of Jennah herself that saved the day, leading away the overwhelming forces through a nifty dragon illusion.

In itself, this drives some fans up the wall as they question whether the queen really needed Logan in the first place.

Personally, I think it's interesting that Jennah can be completely acting for the betterment of her people, but in doing so makes choices that have disastrous consequences. Would the loss of Ebonhawke have been worth it if it meant the defeat of Kralkatorrik?

Most certainly.

But then again, under such an attack and from her perspective, how could Jennah have made a different choice? Ebonhawke has been a last bastion fought over ferociously for centuries. To do everything to defend it was as natural as breathing. Unless she's secretly a villain of course.

I'm not wishing to paint the queen as Tyria's Lady Macbeth; Shakespeare's character was almost purely motivated by ambition and self-interest, whereas Jennah – as far as we are aware – was just defending her subjects and land.

It's still fascinating though that after being to Divinity's Reach and seeing just how successful she has been as a monarch, so many players really detest her. Yet, still it's Logan that gets the brunt of the blame.