Ryota Iwagami wrote:
Implementation of Monstrosity to the Test Server
Iwagami here!
I just added a forum avatar, so I'm all fired up today!
During this week's Test Server update we will be making it possible to play a portion of Monstrosity. There are special features specific to the Test Server that will change when moving this content to the live servers, so I'd like to explain about this a bit. Also, the content implemented is subject to change.
What is Monstrosity?
Monstrosity is content that will allow you to turn into the monsters of Vana'diel and have a good time. Instead of just searching for power, try becoming various monsters and exploring a multitude of areas. You might just discover some interesting aspects that you didn't notice before!
Here is a commemorative screenshot!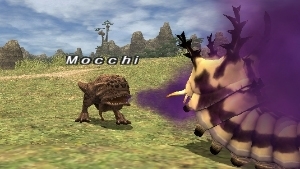 While the below stats are still in-development, by attaching what is known as "knowledge" (*provisional term) you will be able to add special traits. We are doing our best to develop this content so that combining types of monsters you can change into, the knowledge you set, and other aspects turn into an awesome time.
Rabbit Knowledge 1

(HP+2% AGI+5 Attack+10 Cost: 3)
Bee Knowledge 1

(AGI+5 Attack+10 Evasion+5 Cost: 3)
Crawler Knowledge 1

(HP+3% Attack+5 Resist Slow+30 Cost: 5)
How to Start and Stop Monstrosity on the Test Server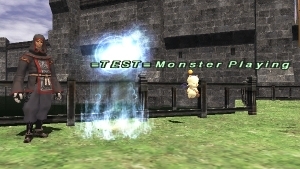 We've setup the "=TEST=Monster Playing" NPC shown in the above screenshot in North San d'Oria (L-9), Port Bastok (J-12), and Windurst Waters (K-10). By talking to this NPC, you can get setup to try it out and hear an explanation about the content that is ready.
Once you're all set, examine the glowing object next to the test moogle and move to the lobby area.
When you move to the lobby area you will be changed into a monster, and this is when Monstrosity begins!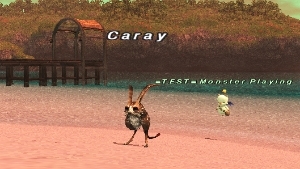 For the real content, we are planning to have Monstrosity begin from the three nations and then moving to a specialized lobby area.
You can return to normal from a monster via the following three ways:
1. Using the monster ability "Return" (*Provisional term). (Cannot be used in the lobby area.)
2. Examine the glowing object in the lobby area and select "End Monstrosity" (*Provisional term).
3. Select the "Quit Monstrosity" option that appears when you are defeated by a monster.
Content Available with the 5/31/2013 Test Server Update
With the Test Server update to take place on 5/31, it will be possible to change into a rabbit, mandragora, bee, or lizard, set knowledge and battle monsters in the field. The fields that you can play in will be 2 field areas near each of the three nations.
Content that will not be implemented yet
• PvP
• Unlocking of new monster types
• Learning new knowledge
• Adjustments to spawn locations when retrying the same area.
Content currently being adjusted
• Monster stats, abilities, and magic
• Amount of TP consumed when using monster skills
• Knowledge stats and cost
• Required experience points to level up
Features special to the Test Server
• Method to select the type of monster you want to become
• Method of setting knowledge
We'd like you all to check out the content on the Test Server so you get an idea of what it's like when you become a monster, as well as understand what kind of things you can do in the future with this content. We are developing this so we can continuously add new elements in a short amount of time, so please try it out and let us know what kind of things you would like to see! When submitting feedback on Monstrosity, please be sure to leave out the specialized features for the Test Server.
For how to participate on the Test Server, please check
here
.
Thank you very much!
http://forum.square-enix.com/ffxi/threads/34212-Implementation-of-Monstrosity-to-the-Test-Server?p=441678#post441678
Camate wrote:
Greetings everyone!
I hope you all had a chance this weekend to try out Monstrosity.
I have a couple of things to note about current features as well as features that are to be implemented in the next Test Server update.
Healing HP/MP
Currently, as some of you might have noticed, you are not able to heal. However, in the next Test Server update we will be making it so your HP and MP recover when you are not fighting for a specific period of time.
Monsters at the warp points
In the next Test Server update we will be making it so you cannot be attacked by monsters for a specific period of time after warping from the lobby area.
Return Feature
We're planning to make it possible to cancel the "Return" ability once it has been activated.
Buffs and Experience Points
In the next Test Server update we will be making it so when you enter the lobby area you can reset your status effects so that food or other special effects do not carry-over when you change into a monster.
Also, since this content was meant to be played solo, we aren't planning to make the experience points needed to level up as high as that of an adventurer. There will also be no death penalty, so you can just have a good time and get experience points.
Sentiencies Menu
Since I am sure many of you are curious as to how sentiencies will look in the UI, here are a couple of screenshots to illustrate how it will be: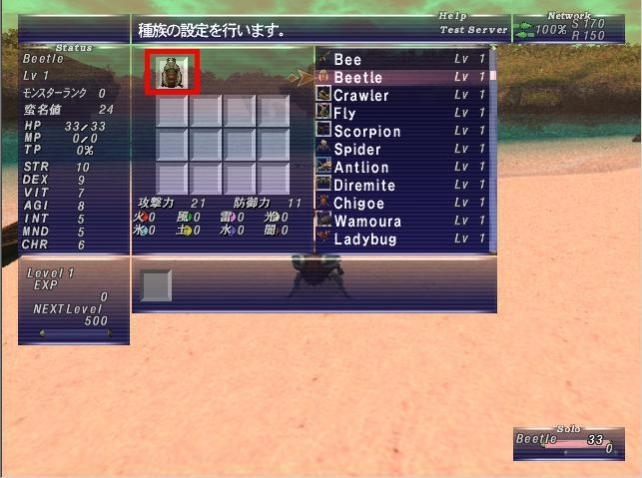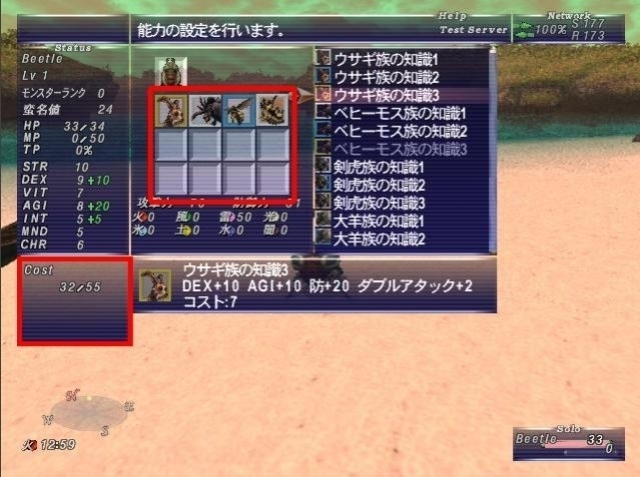 As long as it's within the cost limit, you can customize your sentiencies as you like!
http://forum.square-enix.com/ffxi/threads/34212-Implementation-of-Monstrosity-to-the-Test-Server?p=440326#post440326
Older:
Camate wrote:
Greetings! (Sorry for the necrobump.)
I hope everyone had a wonderful Thanksgiving!
I'd like to share a bit of information about the "Play as a Monster" (working title) content that is currently in development, so let's take a brief look at an example…
Let's pretend my big behemoth self turns into a different monster like this rabbit here.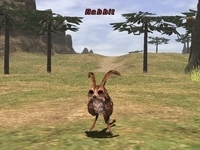 The name is not the player's name as you can see, and it is displayed in the log as "Rabbit" as well.
Once you become a monster, there will be a "monster skill" option added to your action command menu. (Apologies that the below is only in Japanese, but the highlighted option is "monster skill")

From this option you can select and execute abilities, which will require and consume TP.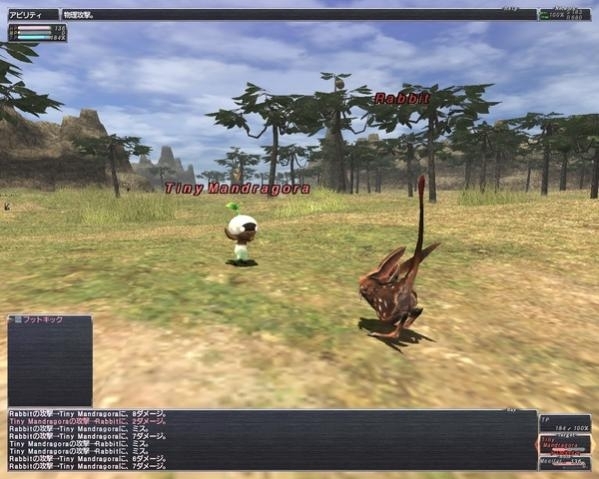 Currently the rabbit's level is pretty low, so I only have Foot Kick at my disposal, which is why I am out here fighting this mandragora. Once I level up I'll start learning Whirl Claws and other abilities.
We wanted to become a really sweet monster and show off how you can fight against other players, but the PvP battle system is still being worked on, so we were unable to do it at this time.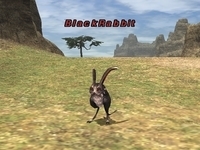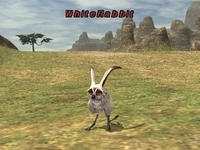 It's also possible to upgrade (evolve?) to a Black Rabbit or a White Rabbit. Depending on what kind you become the abilities will differ. For example, the White Rabbit will learn Snow Cloud.
While I am sure a great deal of players are in fact looking forward to having a new PvP aspect added to the game, those who do not fancy PvP much will still be able to enjoy this content (i.e. changing into a variety of different monsters). However, since part of a monster's daily activity is to battle with adventurers, there is a high possibility that we will not be making it so you can completely avoid PvP on the monster-side.
Even if you are not actively picking fights, you may be attacked, so in these cases you can either try to resist as much as possible or throw in the towel. Don't worry though, there will not be any death penalty, so just repop and keep on trucking. We would like the "Play as a Monster" PvP to be content that is enjoyable and does not disturb relationships with friends.
On another note, when becoming a monster you will not be able to form parties with other monster players or adventurers. The main reason why it will not be possible to do the former is because adventurers will not be able to defeat an alliance of fully developed monsters. We also don't want to make it so you get head hunted while playing solo either when you are not in a party, and would like to keep it easy to play without this stress. For the latter, as I mentioned above, part of a monster's life is to fight adventurers, so we want to keep the hostile relationship between adventurers and monster intact.
The development team is powering forward to make this content ready for testing on the Test Server, and actually a portion of the data has already been put onto the Test Server last week. We will have some more information on the overall system soon enough to share with you all!
*Please keep in mind that the above is all in development and can possibly change.
http://forum.square-enix.com/ffxi/threads/24714-Play-as-a-Monster-Camps?p=381738#post381738
Edited, May 30th 2013 1:43pm by Szabo
Edited, Jun 3rd 2013 4:13pm by Szabo